*I wrote this a couple of days ago...*
I found myself completely focused on the future today. The near future. Usually, on New Years Day, I'm pondering the last year and what happened throughout it. It's not to say that I didn't think about a few things that happened this past year, but my mind is so focused on me and Bill's wedding. We are getting married in a little over
2 weeks!
Sometimes, I find it hard to believe that I am getting married, and I'm marrying my best friend. It's the best feeling in the world to know that I'll have Bill with me through my life. I realize different things that I'm feeling when I talk to other people about the wedding.
A couple of days ago, my mom and I were casually talking about how soon the wedding is from now. She told me she is nervous and excited. Meaning it's such a serious commitment that she has so much respect for. I feel the same way, and I feel ready for the commitment. I'm so excited that we'll be able to share our lives with each other.
My sister has also been really sweet when I talk to her about it. Sometimes, we're talking and she just stops and says, "Natalie,
you are
getting married!" I can't help but smile when she says that. It makes me so happy that she is happy for me. I feel like I process it even more when she says that to me. haha Not that I haven't been thinking about it for the past six months. ;) It's going to be a big change for me and my family. Especially since I'm the first kid to get married out of our family. Change... That is life. I can't wait to see what it will bring!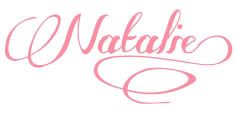 (Image:
via
)